A single contact
for all your financial matters
and employee benefits.
We have all the specialisations in our field under one roof, so we can provide the best possible integrated advice for you as management, and for your employees. This saves on personnel costs and supports your Finance and HR departments.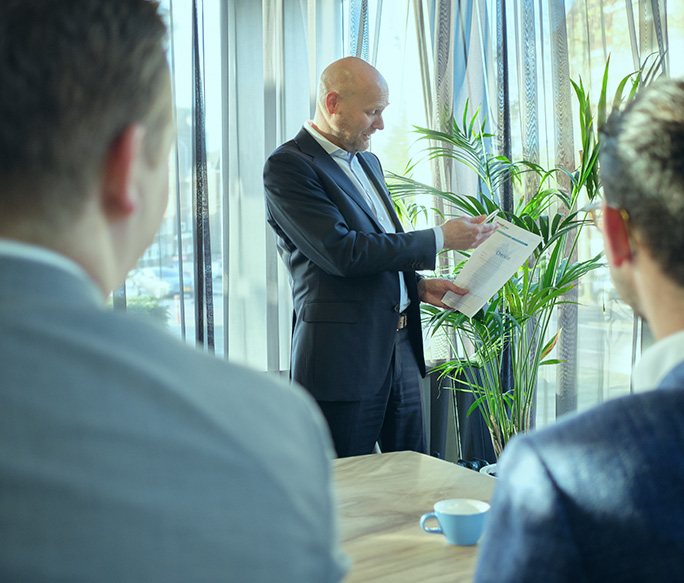 A lot is changing in the area of ​​pension accrual for employers and employees. Our specialists closely monitor all developments and advise you proactively if something changes that is important for your company. We also advise you on pension rights and options for DGAs, expats and flexible workers. You can also contact us for collective pension agreements.
We map out the consequences of incapacity for work of your employees for both you and the employee and advise you about the options to insure you and / or your employees for the consequences. It goes without saying that we also take care of the insurance.
Poundwise assisted us during the purchase of our first house. Both Glenn and Chris were always there for us from start to finish. They were available, thorough and patient. At every moment we felt that we were in good hands. Very nice to take such big steps with such confidence. Absolute must; we look forward to a long cooperation.
Poundwise for your employees
In today's labour market, being a good employer is more important than ever. If you want happy employees, it's important to realise that the 'soft' side of their contract is just as important as the salary. We advise your employees on how to take advantage of their benefits in a way that best suits their individual situation.
We can help your foreign employees feel welcome straight away. We handle finding the right insurance and manage applications for the 30%-ruling on tax payments for expats. We have an extensive network maintained for and by expats, so we can also provide advice on things like schools, sports clubs, and other practical matters to help your employee quickly find their way in their new home.
Housing for staff and expats
We partner with estate agents who will be more than happy to help your current and future employees find housing on both the sale and rental markets. That means we always have fully equipped homes in great neighbourhoods ready at short notice for your employees, expats, and their families.
Poundwise: the one-stop shop for engaged entrepreneurs.